On 21st October 2020, I went hiking up to Mt. Nabewari, one of my favorite mountains near Tokyo. Mt. Nabewari is located in Kanagawa prefecture and part of the Tanzawa mountain range. It takes only an hour and a half to get to the start point of the hike from Shinjuku station by train and bus.
The most famous thing of Mt. Nabewari is probably "Nabeyaki Udon" which is provided by a small hut called "Nabewari Sanso" at the top of the mountain. You will have this delicious "Nabeyaki Udon" with the best view of Mt. Fuji!!
I just would like to warn you that there are tons of leeches on the trail in summer season. Therefore, I usually go hiking in spring from April to May or autumn from October to November. A lot of people visit Mt. Nabewari in autumn season, especially you find beautiful colored trees from the end of October to the beginning of November.
Today, I would like to introduce you useful tips about Mt. Nabewari hiking, such as the access to the mountain, hiking trail details, and nearby hot spring spots.
I assure you never forgetting experience, having Japanese traditional "Nabeyaki Udon" with beautiful Mt. Fuji view in front!
Mt. Nabewari Hiking Trails, Approach, and Access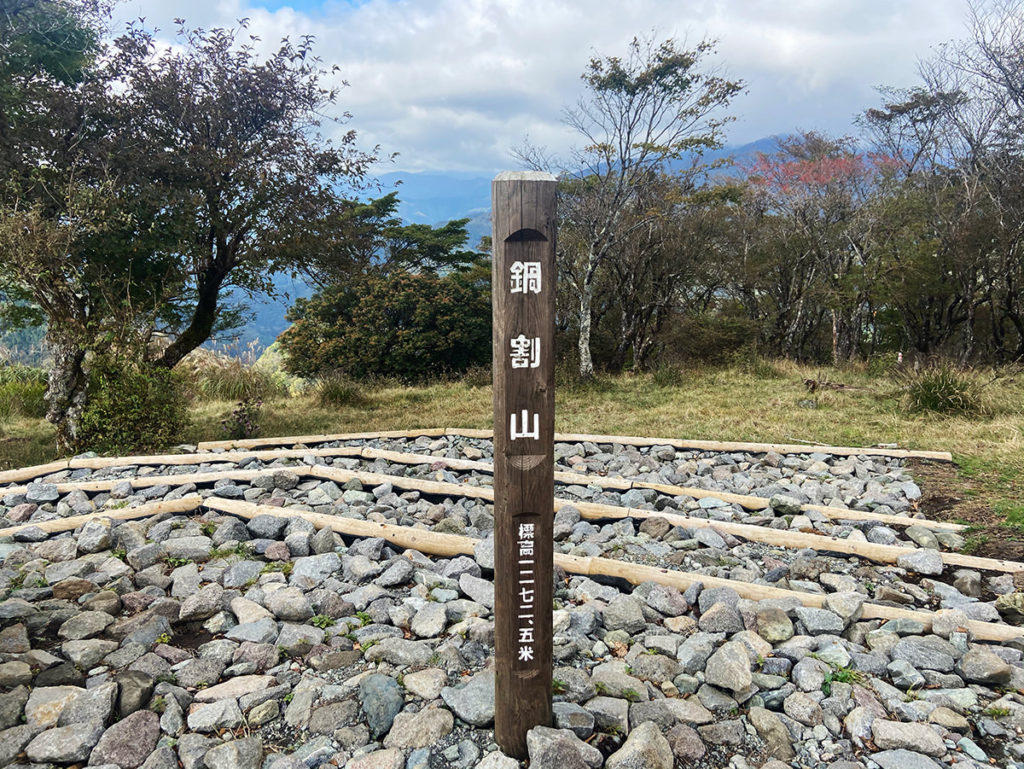 I would like to introduce you the standard hiking course and also the advanced one. Both start and end at Okura bus terminal. Please check out the access to Okura too.
Standard: "Okura-Futamata-Mt. Nabewari" Round Trip
This course is long and challenging but the easiest approach up to Mt. Nabewari. Please find the details at the map and below box.
Course Details
Total Time: 7hours10min.
Total Length: 16.52km
Elevation Differences: 982m
Outward : 4hours
Okura 大倉(100min.)- Futamata二俣(50min.)-Ushirosawanokkoshi 後沢乗越(90min.)- Mt. Nabewari 鍋割山
Return: 3hours10min.
Return: Mt. Nabewari 鍋割山(50min. )- Ushirosawanokkoshi 後沢乗越(40min. )- Futamata 二俣(100min. )- Okura 大倉 
Advanced: "Okura-Mt. Nabewari- Mt. Tono- Okura"
If you would like to hike longer, I would recommend you to walk to the next peak "Mt. Tono", 1491m altitude.
Between Mt. Nabewari and Mt. Tono takes less than 2hours easy hike, but the way down to Okura would be very steep and tough. You should be fit and well prepared for yourself.
Please find the details at the map and the box below.
Course Details
Total Time: 8hours15min.
Total Length: 17.64km
Elevation Differences: 1,202m
Outward : 4hours 
Okura 大倉(100min.)- Futamata二俣(50min.)-Ushirosawanokkoshi 後沢乗越(90min.)- Mt. Nabewari 鍋割山 
Between: 1hour40 min.
Mt. Nabewari 鍋割山→Mt. Tono 塔ノ岳 

Return: 2hour and 35 minuite
Mt. Tono 塔ノ岳(30min.) – Tachibana Sanso 花立山荘(65min. ) – Komadome chaya 駒止茶屋 (60min.) – Okura 大倉
Access to Okura by Public Transport
Take Odakyu-line train to Shibusawa station (渋沢駅), only 1hour from Shinjuku(新宿駅)station. Then take a Kanagawa Chuo line bus to Okura(大倉),15 minutes.
You can download the bus timetable at the website, or you should use app which enables to check train and bus schedule in English. The bus runs often.
Bus Timetable Website (only in Japanese)
App Japan Travel by NAVITIME (English)
When I took the bus from Shibusawa station north gate, there were already people lining up. In busy season, there would be a special bus coming for more capacity. As it takes only 15 minutes, please be patient.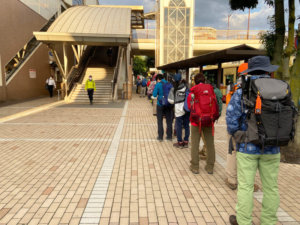 It would be cheaper and more convenient to get Tanzawa-Ohyama Free Pass sold by Odakyu line.
You can find the information from the link above in English. Just be careful not to choose A type pass but choose B type pass.
Not only bus and train, you can use this pass to get discounts at the related souvenir shops and hot springs nearby.
Let's eat "Nabeyaki-Udon" at the top of Mt. Nabewari!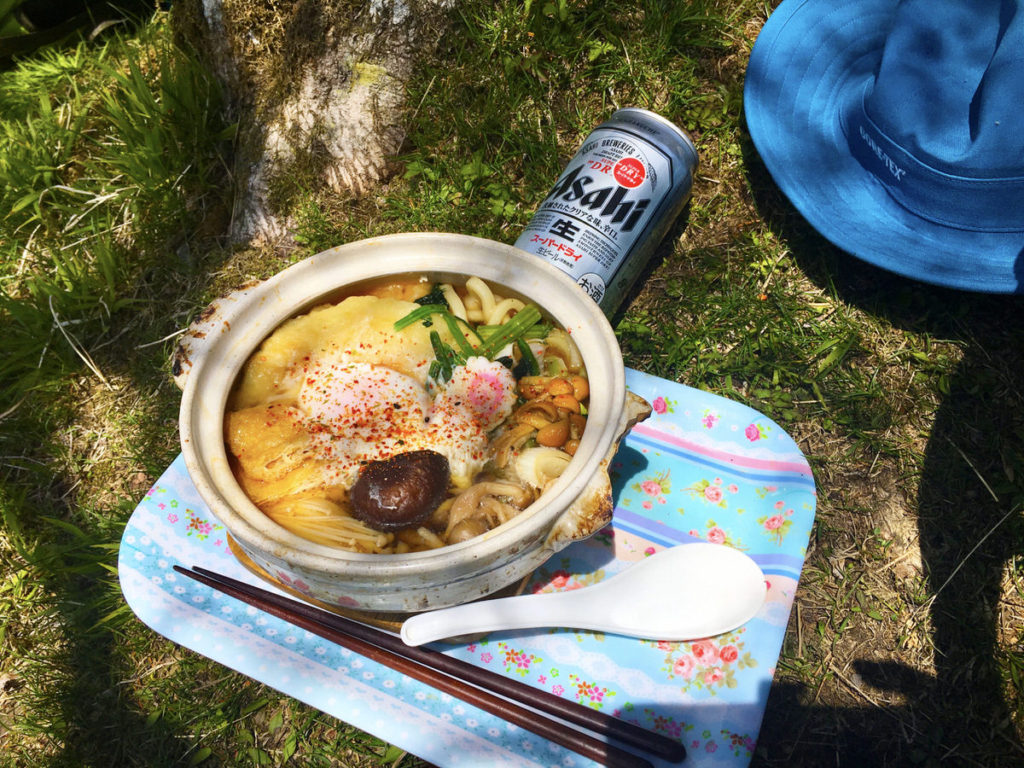 Onward trip is the same way for both Standard and Advanced courses. After having a delicious "Nabeyaki Udon" at the top, standard hikers go just the same way back to Okura, and advanced hikers continue hiking to the next peak Mt. Tono. Both arrive at Okura bus terminal finally.
Trail Guide: from Okura to Mt. Nabewari
At the Okura bus terminal, there are an information center, restroom, and trip plan box. Be sure not to forget stopping by a restroom because there won't be ones until the top of the mountain for about 4hours.
Please follow the instruction "鍋割山" to the left side.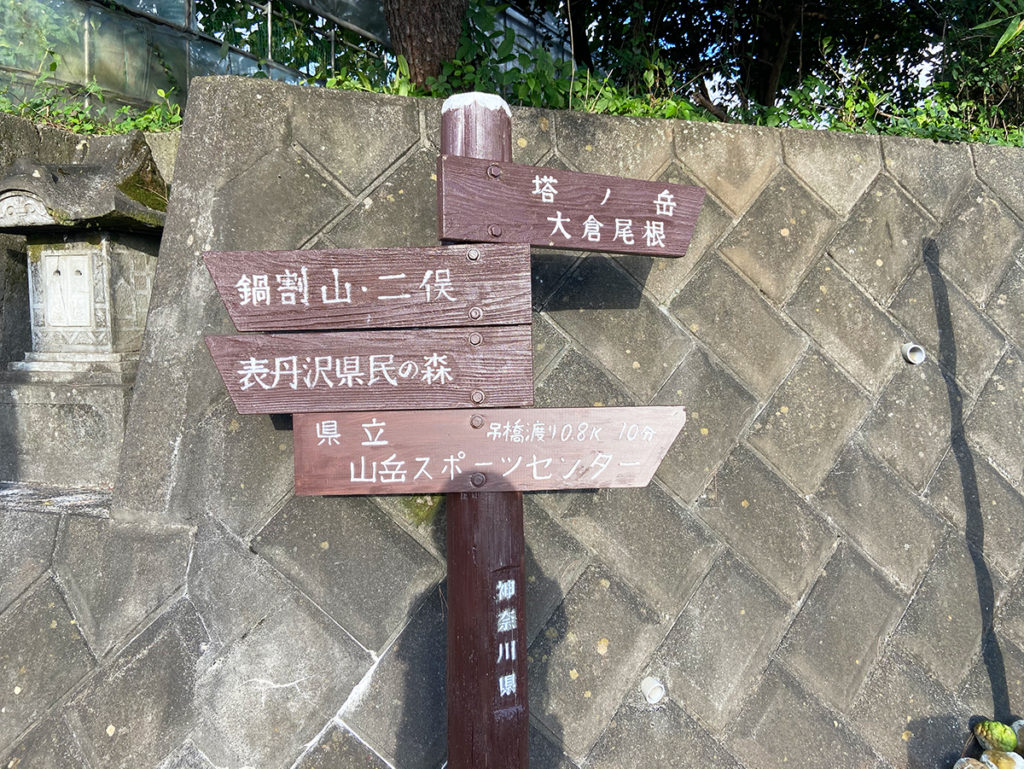 After walking through a peaceful residential street and passing through the net which keeps deer away, proceed to the hiking trail entrance.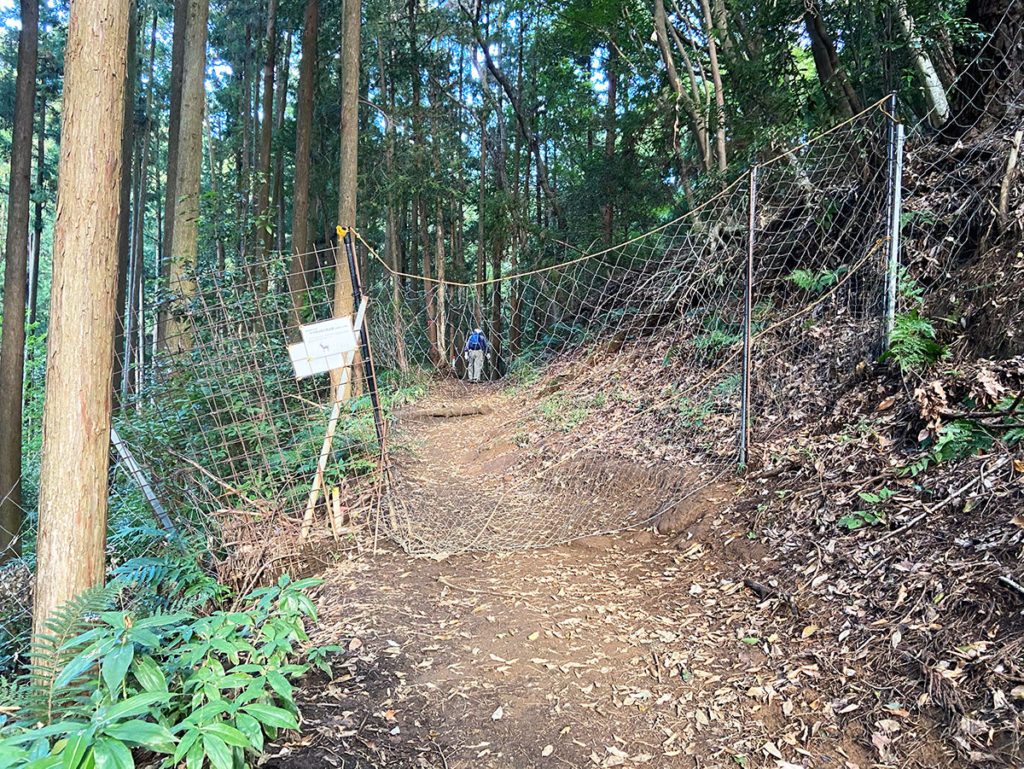 Keep walking on the wide and flat hiking trail like the photo below, enjoy the Japanese beech forest road for a long while.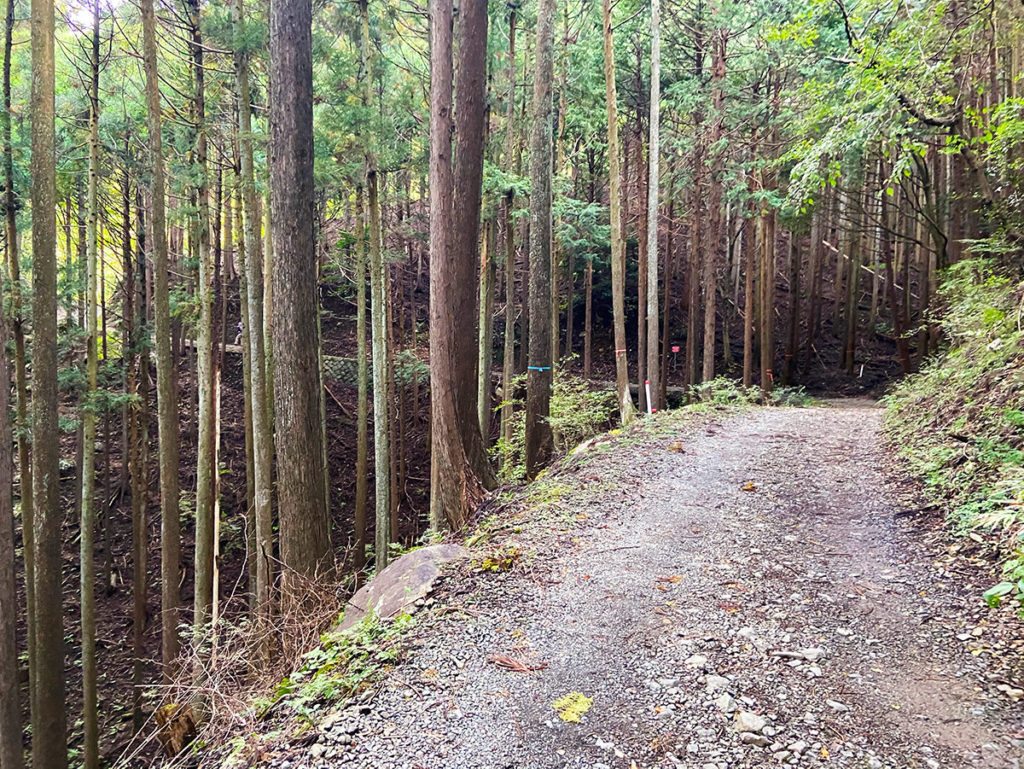 Passing by three streams over the wooden bridge. Be careful at the swollen streams after heavy rain.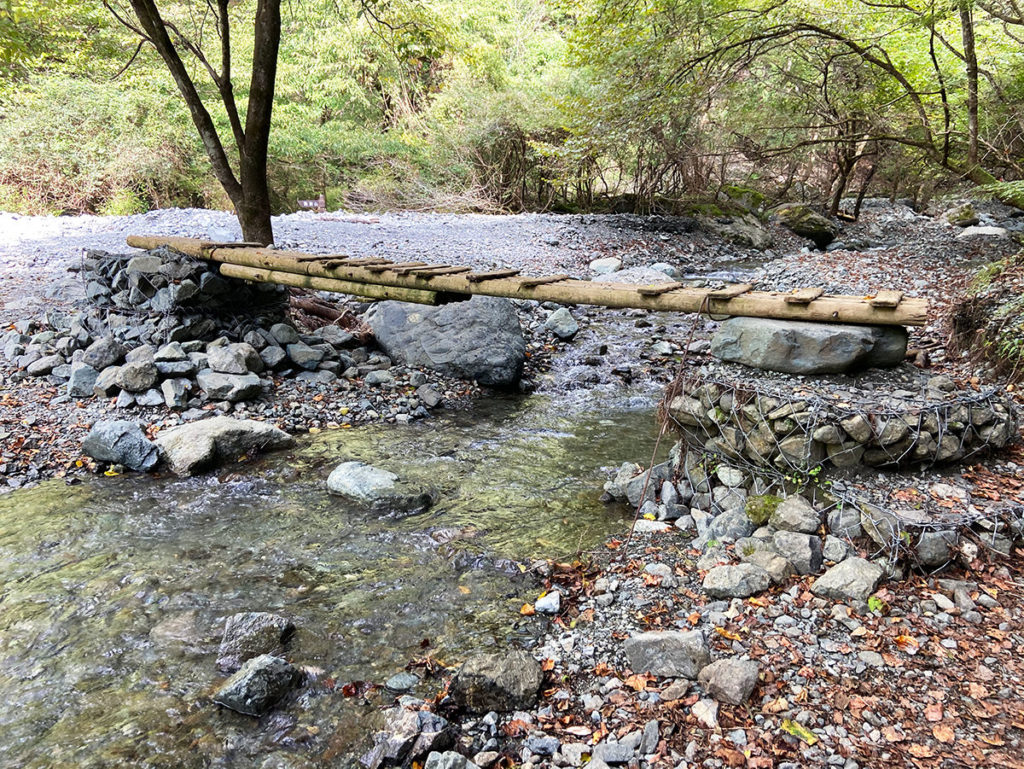 At Futamata splits, there is another route up to Mt. Nabewari through Komaru-pass, but the trail is a little complicated. Follow the left side sign.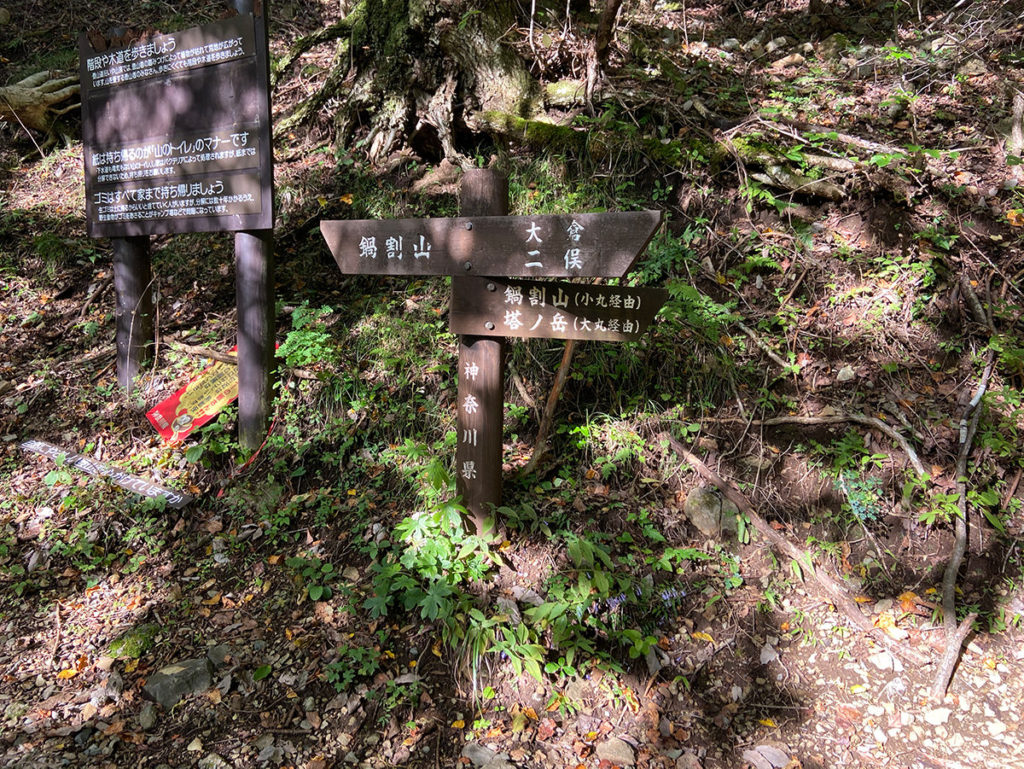 Keep following the trail and you will find a pile up water-filled plastic bottles on the side of the trail. This is for a water carry volunteering for a hut Nabewari Sanso and its "Nabeyaki Udon". If you still have enough energy, please help carrying up.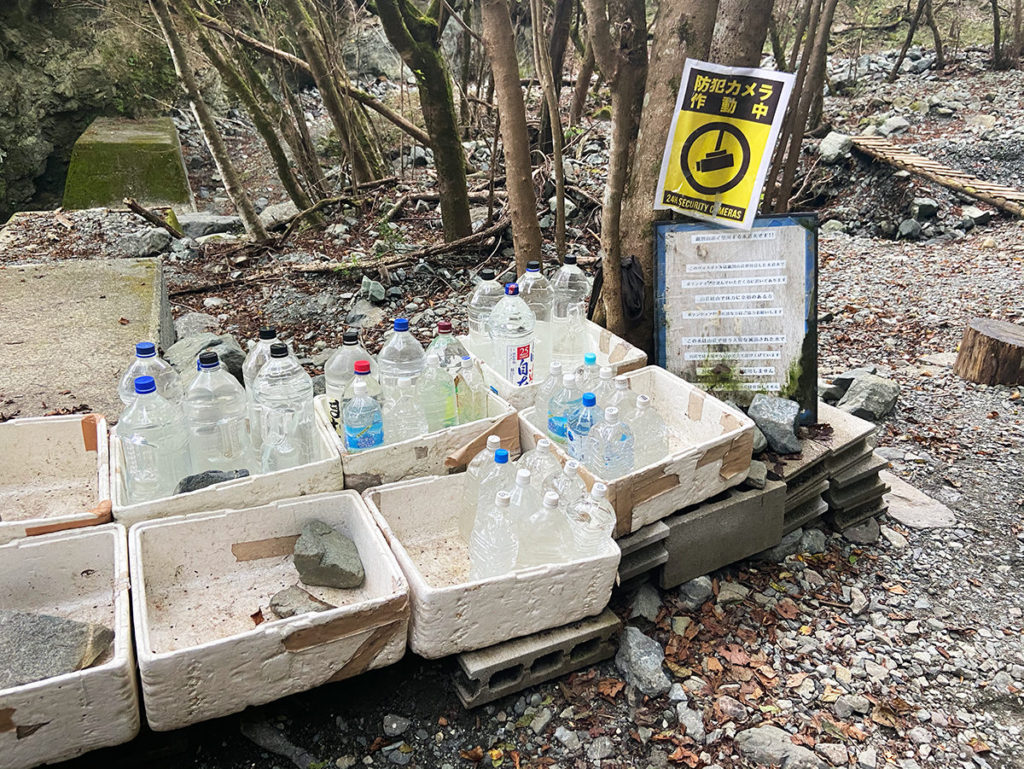 Since this is just a volunteering, do not force yourself burden with the water. It would be a big trouble if you get yourself injured or something. It is okay to have the Udon Noodles without carrying it.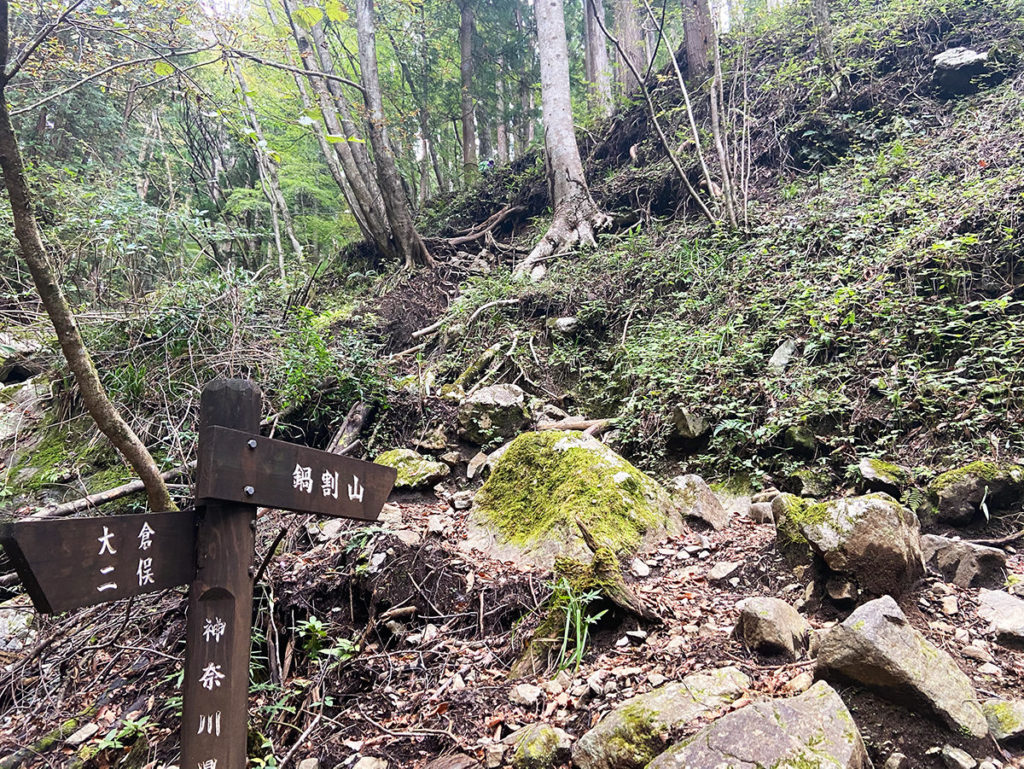 From Mizuhisawa, start having a narrow and steep trail up to Ushirosawanokkoshi 880m, then ascend gradually on the Ridgeway to the summit 1273m.
Here is the tough part! You may regret carrying a water bottle…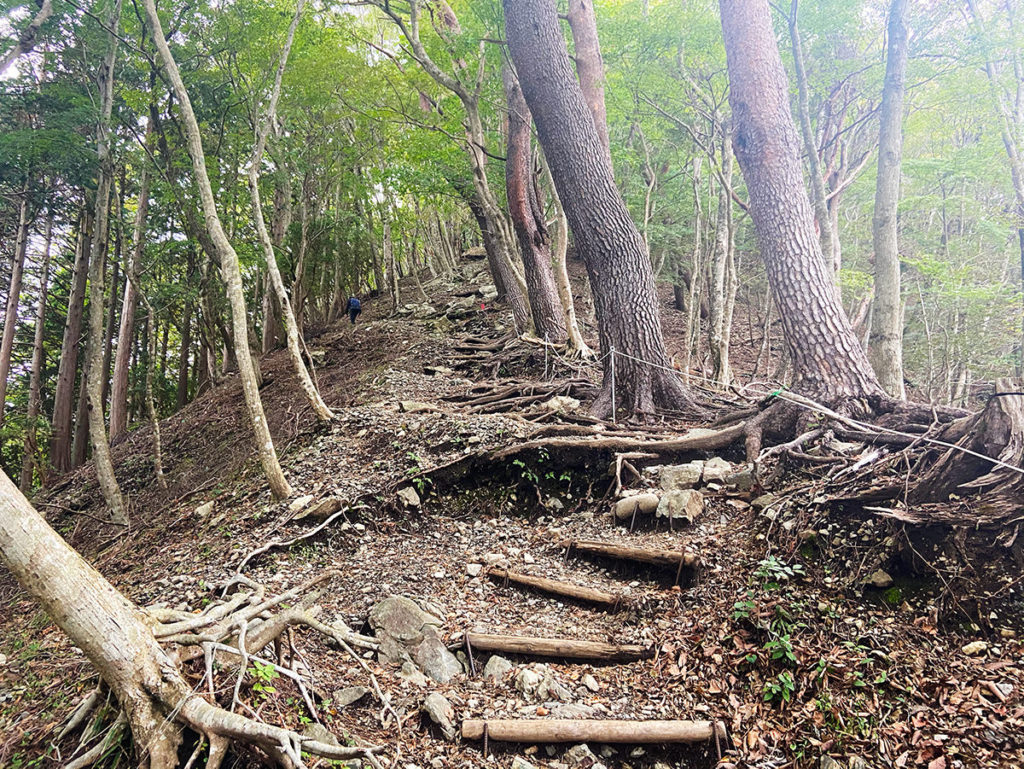 Gradually the color of the tree changes step by step as I approach to summit.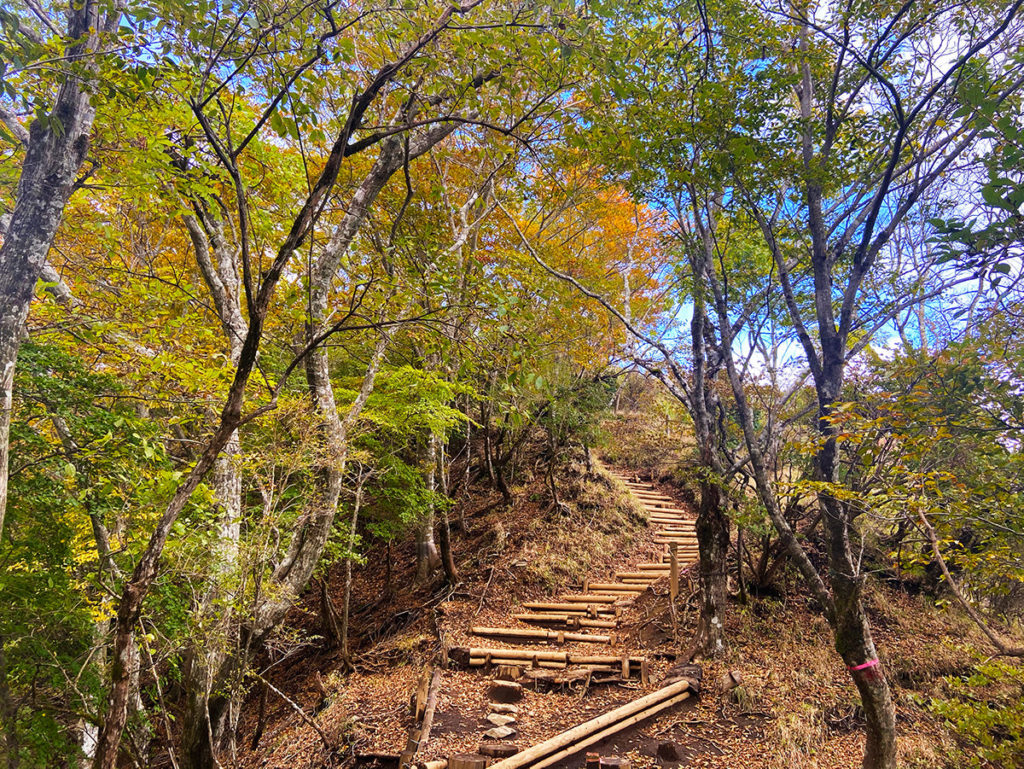 Finally, I arrived at the summit and Nabewari hut. There were a few people waiting when I reached around 10:30 am but It could be a lot of people with a long line during weekends.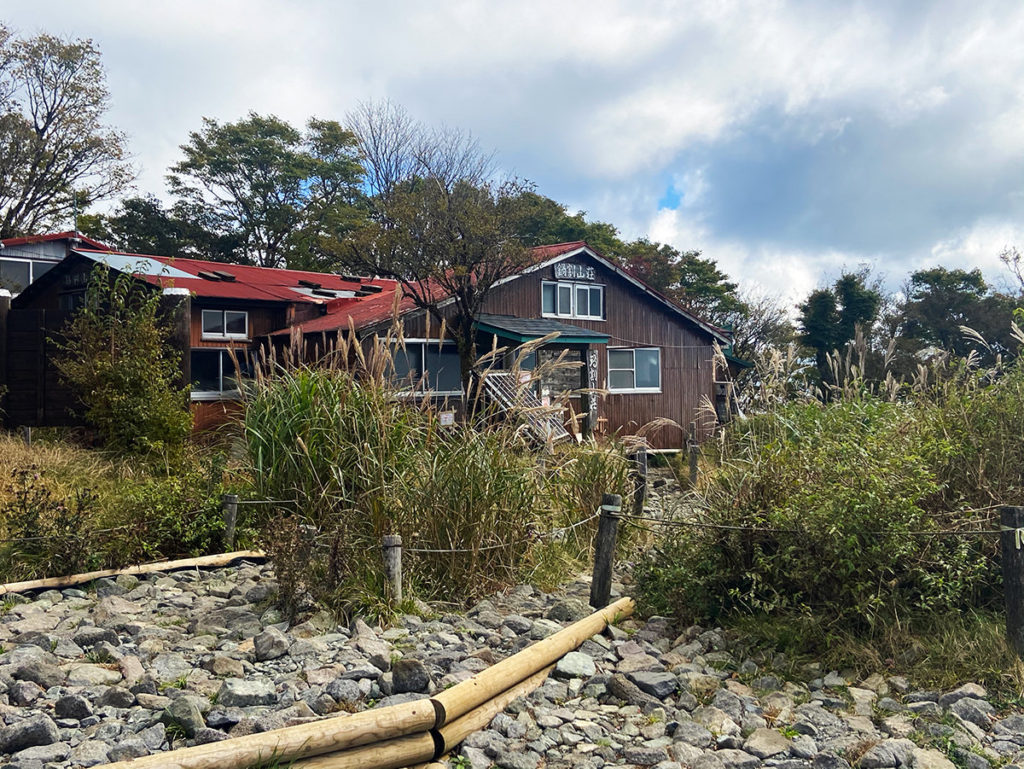 As we are in the middle of Corona virus pandemic, please do not forget to wear a mask and do not enter the hut before staff's direction.
The hut specialty "Nabeyaki Udon" is a little sweetened soy souse based soup with noodle, a lot of vegetables and an egg. After having a tough exercise, you feel yourself a full recovery with a hot delicious bowl!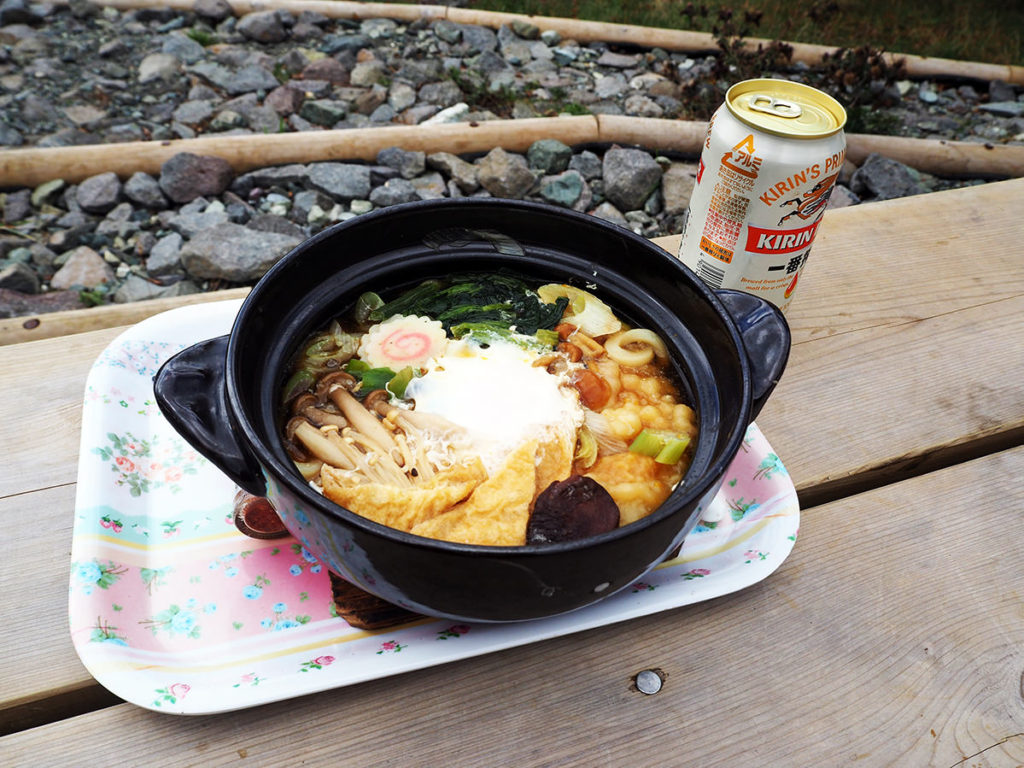 Nabeyaki Udon may be sold out soon before 1pm in high season. It would be sad if you cannot have it after all. I recommend you to make the early arriving schedule by noon. 
After having Nabeyaki Udon, the standard hikers should go back to the same step back to Okura.
Nabewari Sanso "Nabeyaki Udon (Please check official homepage too)
・Price of a bowl of Udon: 1,500yen ※A can of beer was 500yen!
・Opening hour: Weekday 11:00-13:00/ Weekends 10:00-13:00
・Time off: Monday, Friday
Trail Guide(Advanced):from Mt. Nabewari to Mt. Tono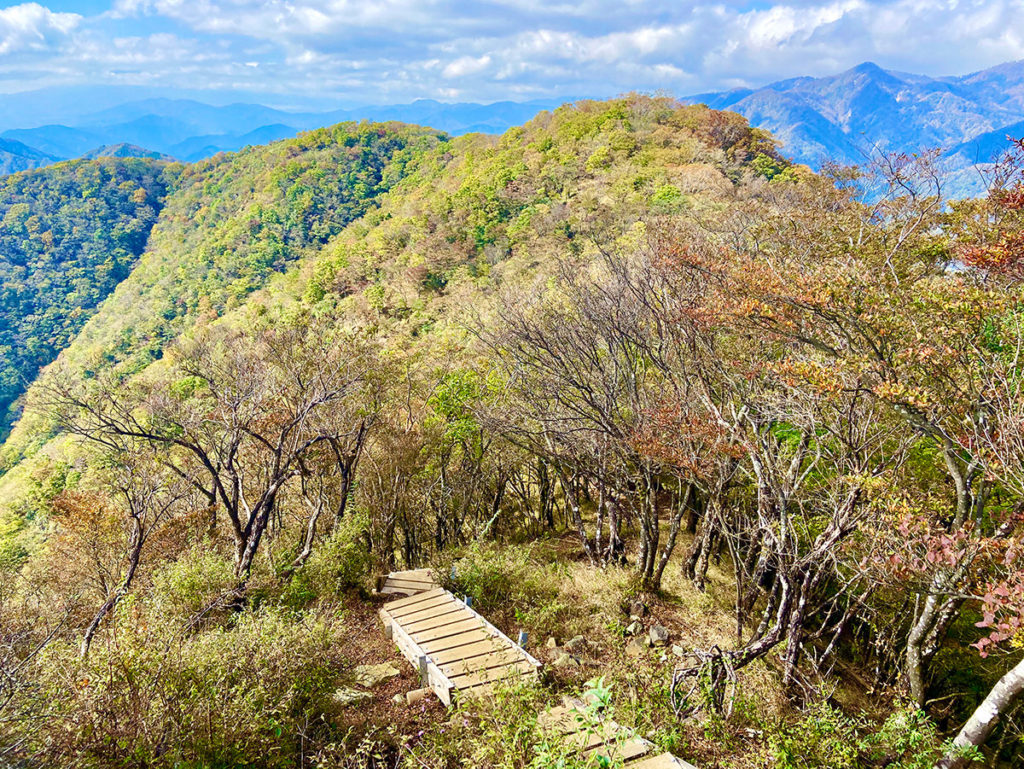 If you want to walk longer, continue hiking to Mt. Tono. It is about one hour and 40 minutes walk at an official course time.
There are a bit ups and down, but mostly enjoyable trail with beautiful landscape as the trees cover disappear.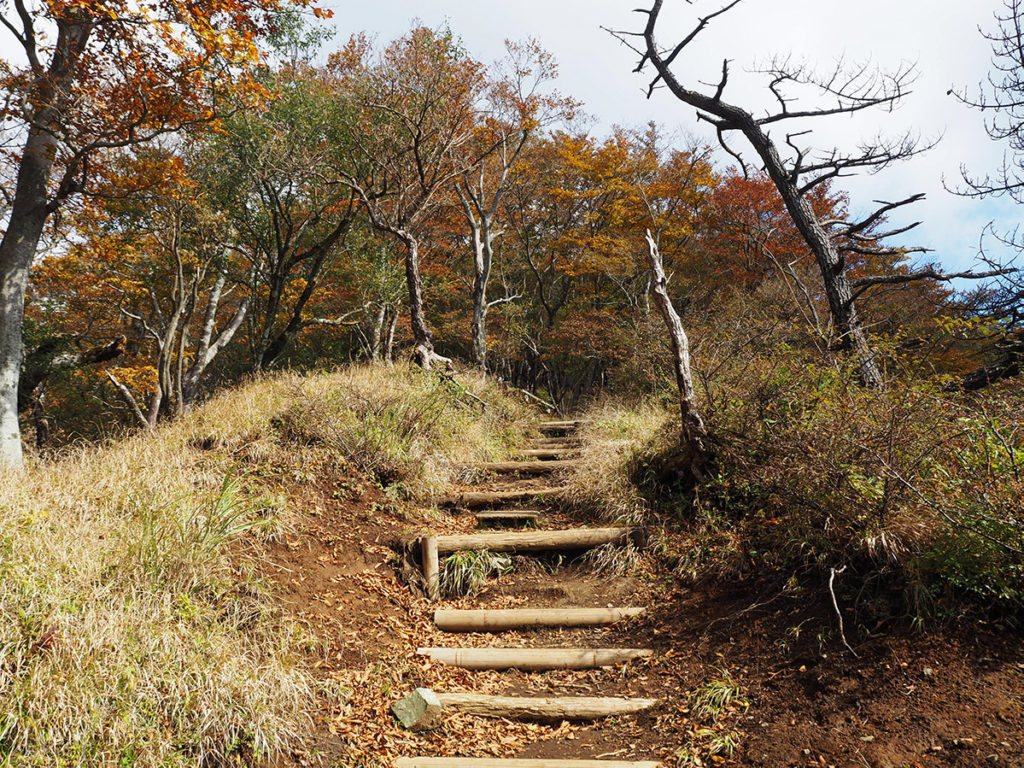 When you pass the split points down to Okura, you will find Mt. Tono in your eyes close. You will get there very soon!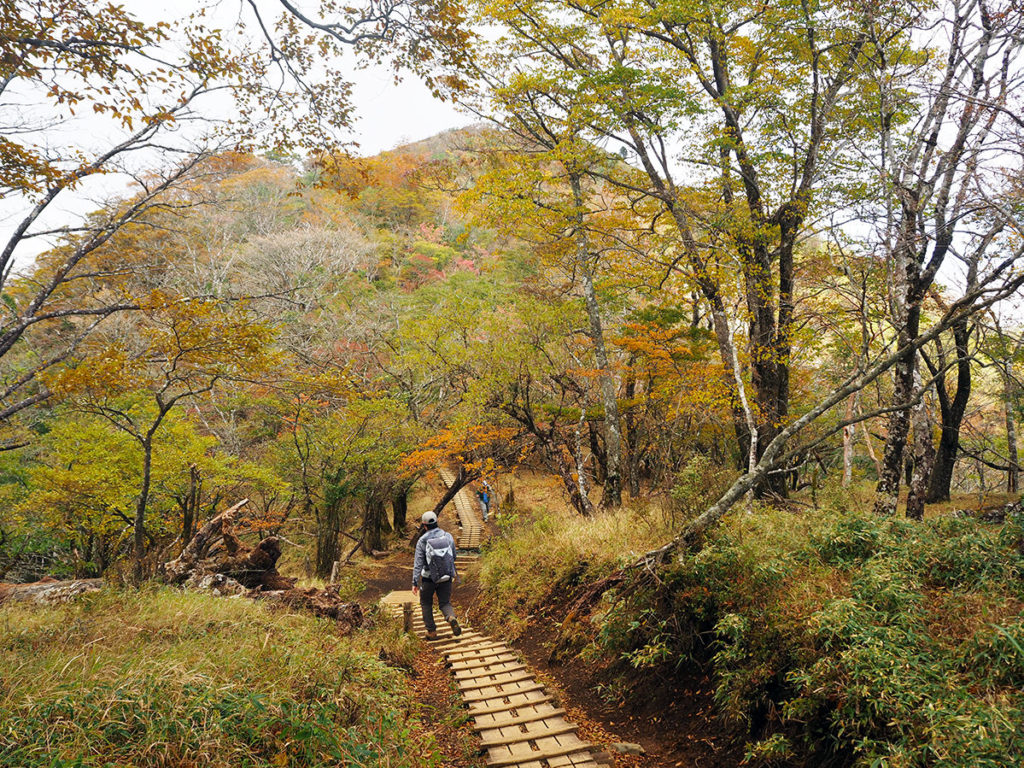 Here you are Mt. Tono, 1491m! When the sky is clear, you will see Mt. Fuji and all the famous mountains in Hakone, south Alps, Chichibu, and Yatsugadake.
At the summit, there is a mountain hut called Sonbutsu Sanso. I would like to stay overnight someday as I have heard a good reputation of a beautiful sunset and sunrise with Mt. Fuji, and also Odawara and Isesaki town lights at night.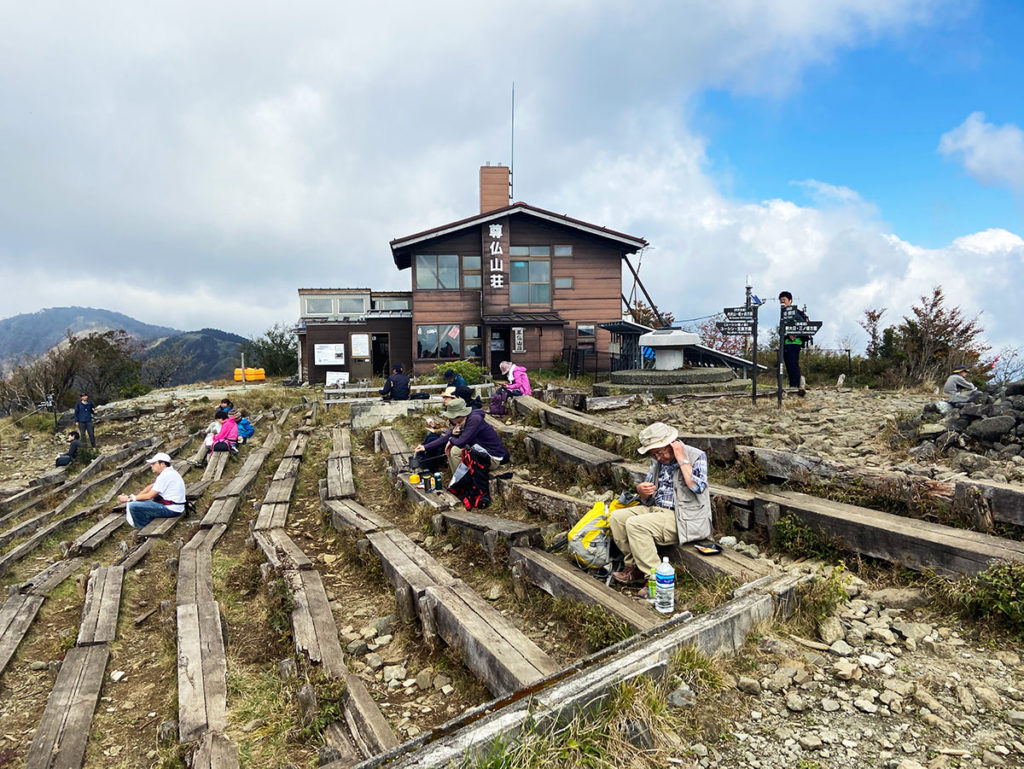 Trail Guide(Advanced): from Mt. Tono to Okura【Baka One】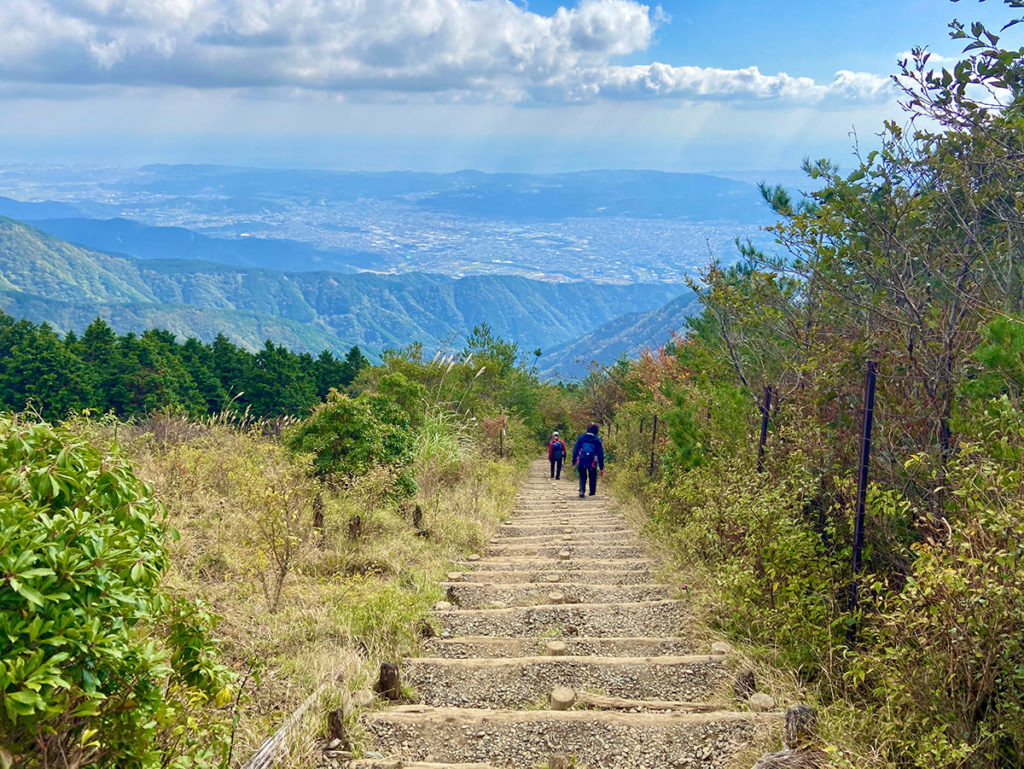 From Mt. Tono down to Okura is a long way back. I saw it was beautiful with blue sky and the pacific ocean in front of my view at first but gradually I got tired of walking down everlasting stares. 
The downhill is called "Baka One" which means "Stupid downhill" . I now understand why it is called so. You should use trekking pole properly not to damage your knees.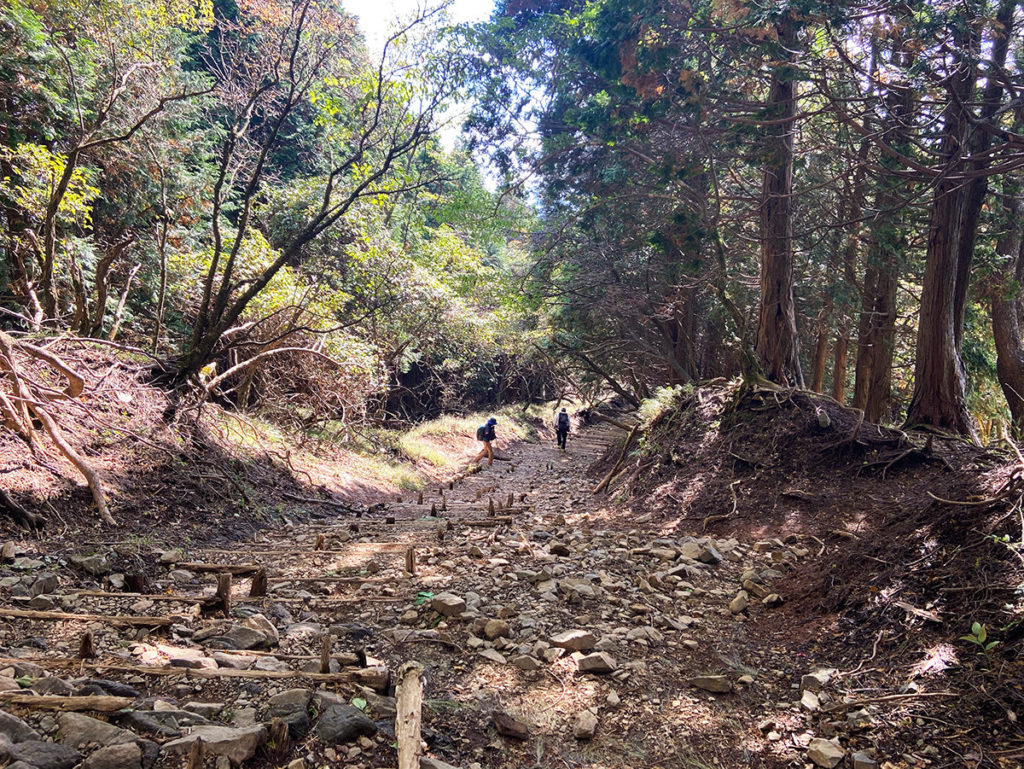 There are a number of Mountain huts and toilets besides the road. You may find a lot of people passing as it is one of the most popular hiking trails in the Tanzawa mountain range.
By following the sign, eventually you will arrive at the bus terminal again. I started hiking around 7am today and got back here at14:30. It was a long day. 
Hot spring spots near Okuda 
After having a tough day, I think you would like to relax yourself in the hot springs. Here is the information.
Tsurumaki Onsen "kobo-no sato yu"
Kobo-no sato yu is located near the station "Tsurumaki Onsen" just three stops away from Shibusawa station. From the station to Onsen is just 2 minutes walk.
Price 
Weekdays:800yen(2hours)
Weekends:1,000yen(2hours)
*You get 200yen discount if you show Tanzawa-Oyama free pass.
Editor's note…
I decided to visit Mt. Nabewari because I wanted to cheer myself up. I was shocked at the news that My favorite band guitar committed suicide this week. I now know it was a right decision to hike. After a long hike and delicious meal at the top, I feel like more relaxing and being positive.
Mt. Nabewari is a great place for eating "Nabewari Udon" and also a very challenging hiking trail. I see a lot of foreign people enjoy hiking in other mountains like Mt. Takao or Mt. Mitake but do not encounter a lot in Tanzawa region.
Mt. Nabewari is an easy access from center Tokyo, but there are more and more interesting mountains in the Tanzawa area. I wrote this article because I would like you to know there are a lot more to hike in Japan.
Hope you enjoyed, thanks!