On 3rd October 2020, I went hiking in Mt. Mizugaki in Yamanashi prefecture, part of Okuchichibu mountain range. It is accessible as a day trip from Tokyo region by public transportation.
The most interesting thing about Mt. Mizugaki is the unique shape. Mt. Mizugaki has been formed by volcanic activities which makes the mountain extraordinary with some standout rocky tower peaks. No doubt Mt. Mizugaki is also a mecca for climbers.
Weekends are always crowded with a lot of hikers as Mt. Mizugaki is counted  one of the 100 famous mountains in Japan.
Let us introduce you the access and trail details with pictures. Hope you get useful information before visiting Mt. Mizugaki.
Mt. Mizugaki Hiking Trail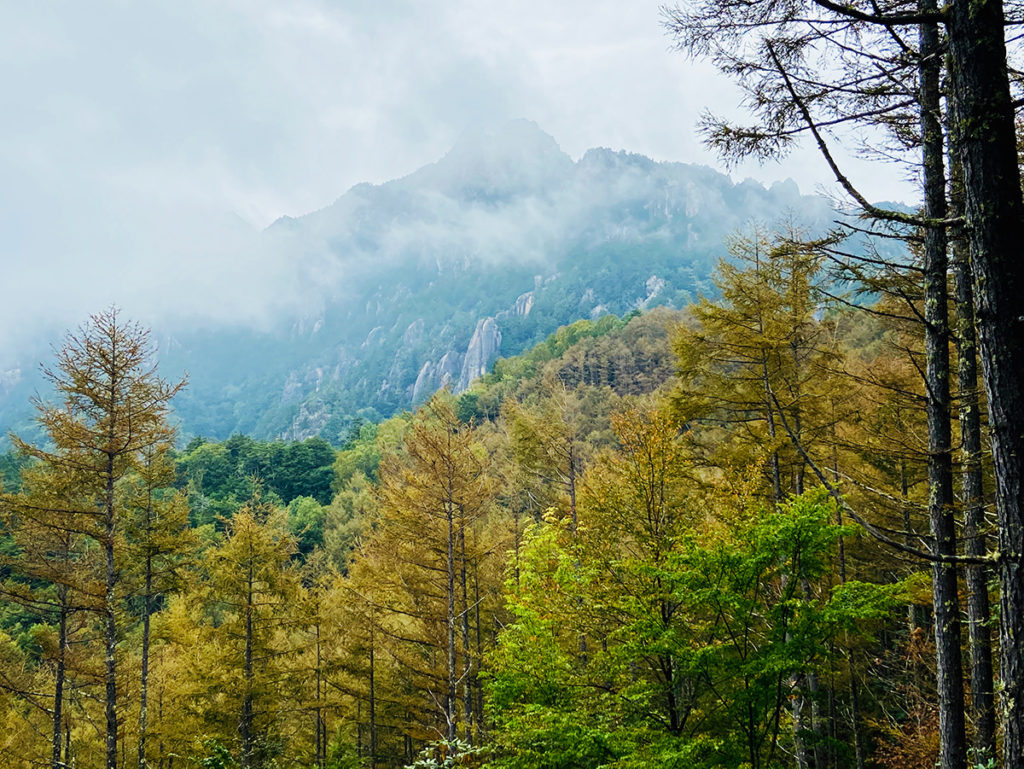 Today's Mt. Mizugaki hiking trail is recommended for experienced hikers who would like to challenge one of the high peaks in a mountain which offer a casual day trip from Tokyo region. The altitude of Mt. Mizugaki is 2,230m.
The Access by Train and Bus
If you use public transportation, you take train JR Chuo- line to "Nirsaki Station"「韮崎駅」. The fastest access is to take the limited express called "Super-Azusa" from Shinjuku Station.
Then take a bus to "Mizugaki sanso"「瑞牆山荘」. The duration of the bus is about 1hour15min, the fare is 2060yen for one way. 
The first bus will arrive at the trailhead "Mizugaki Sanso" around 10am. Be careful not to miss the final bus, which leaves 4:30pm on weekends, 3:20pm on weekdays.
There would be an emergency shuttle bus running in busy season.
The Access by Car
As a lot of people come visit Mt. Mizugaki by car on weekends, be careful not to arrive the parking lot later because you may not be able to find the spot.
When I arrived by a bus, I was shocked to see too many cars out of space and lined park besides the road.
The free parking lot is located below the map, after passing "Mizugaki Sanso" down the road.
【Round Trip】Mizugaki Sanso to Mt. Mizugaki
Official Course Time:5 hours/return
Outward:2hours40min.
Mizugaki Sanso 瑞牆山荘 -50min- Fujimidaira Hut 富士見平小屋 -120min-Mt.Mizugaki 瑞牆山
Return:2hours10min.
Mt. Mizugaki 瑞牆山 – 90min- Fujimidaira Hut 富士見平小屋 – 40min- Mizugaki Sanso
Start Hiking from Mizugaki Sanso! 
After arriving at trailhead Mizugaki-Sanso, use clean restroom here. Please post 100 yen in a tip box.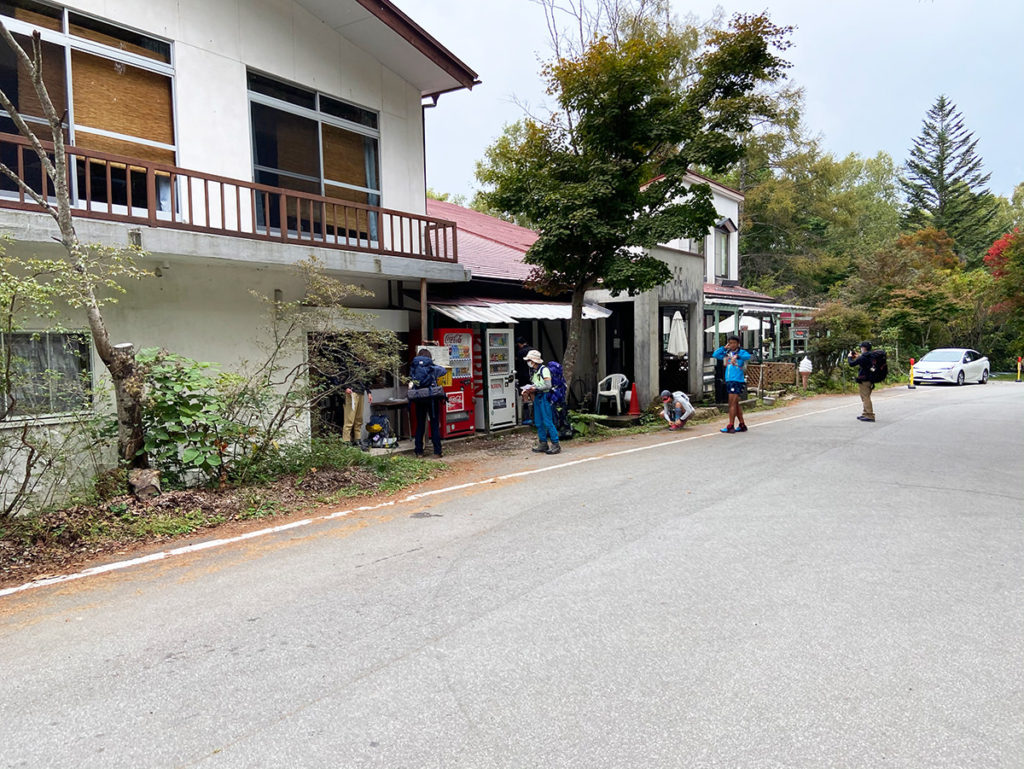 Across the road, you find a flat hiking trail in front. As you pass forward into the beautiful forest, the trail becomes gradually steep and tough.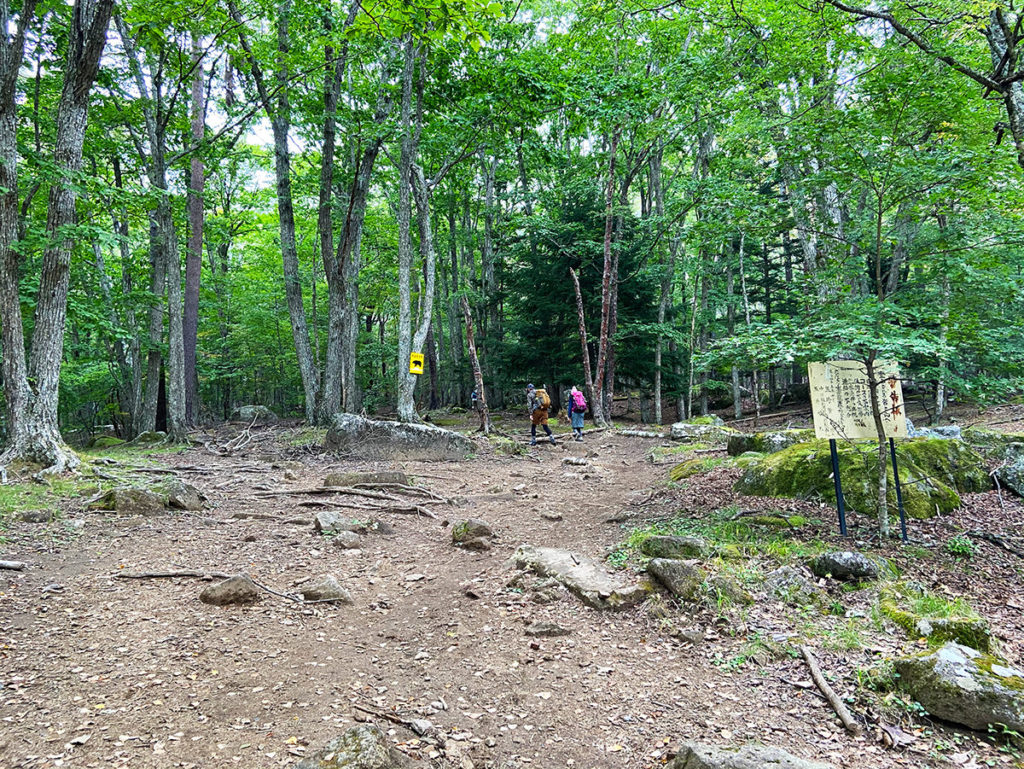 About 30min hike, you may find the view of Mt. Mizugaki. Today, it is foggy and hidden a bit, but isn't it beautiful? I like the shape of the mountain.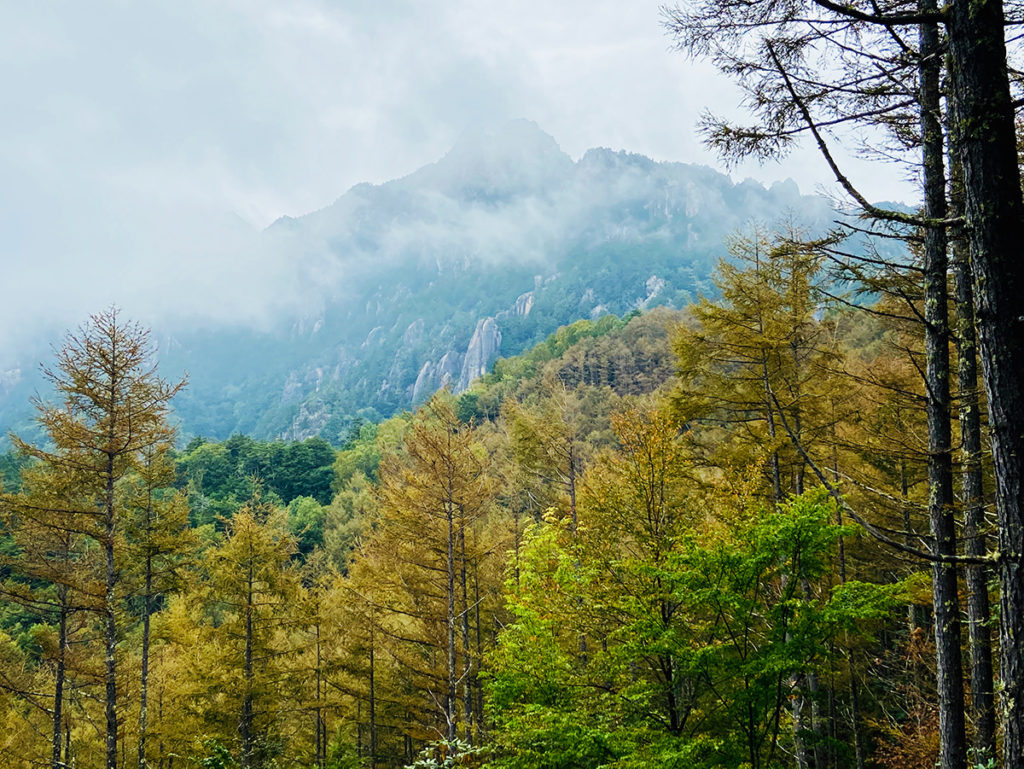 As you move on the road in the colored larches, you find Fujimidaira Hut 富士見平小屋 soon. There is a restroom and also a water filling spot.
When the sunshine is out, there is a possibility to see Mt. Fuji from the hut.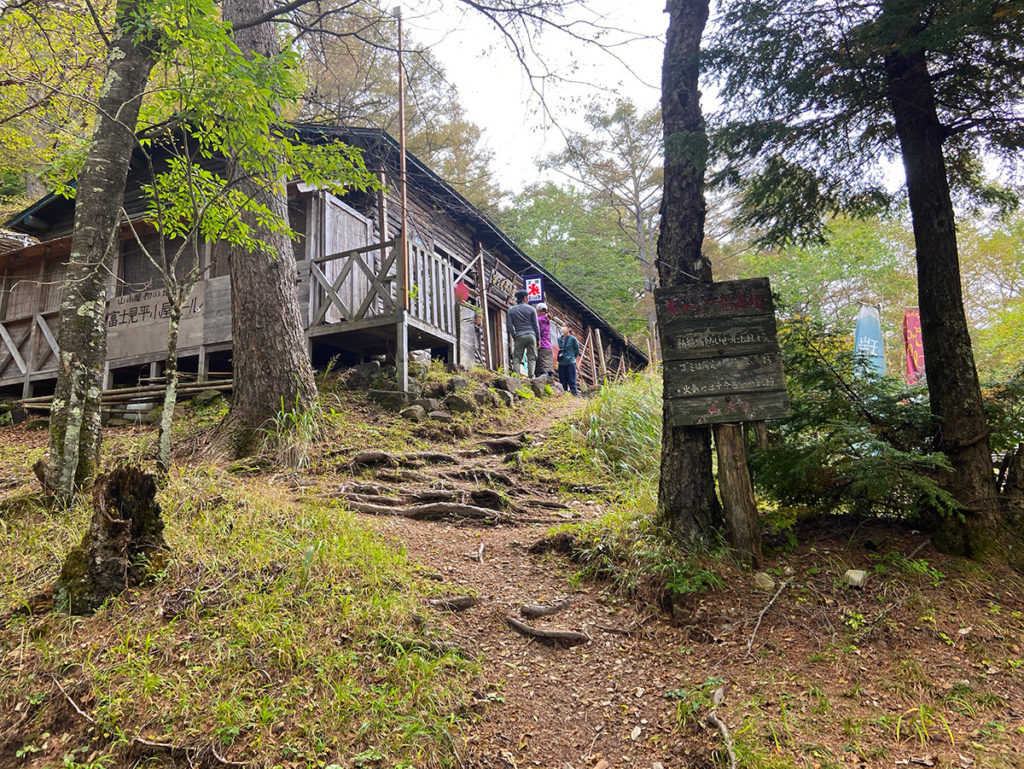 Fujimidaira Hut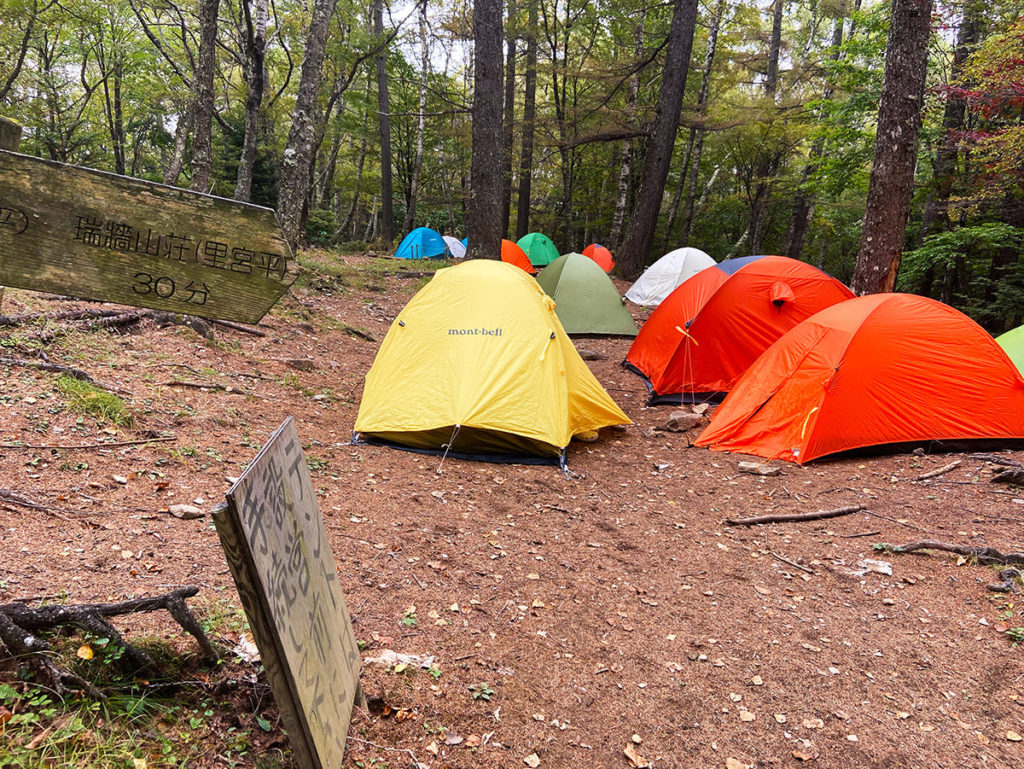 From Fujimidaira Hut and Mt. Mizugaki
From Fujimidaira hut, there is another route up to Mt. Kinpu. If you stay overnight here, you can enjoy hiking up to the both peaks of Mt. Mizugaki and Mt. Kinpu.
As it was an easy hike taking less than an hour to get here, I felt like trying camping here someday. I have never made it up in a mountain yet, but it would be not that difficult.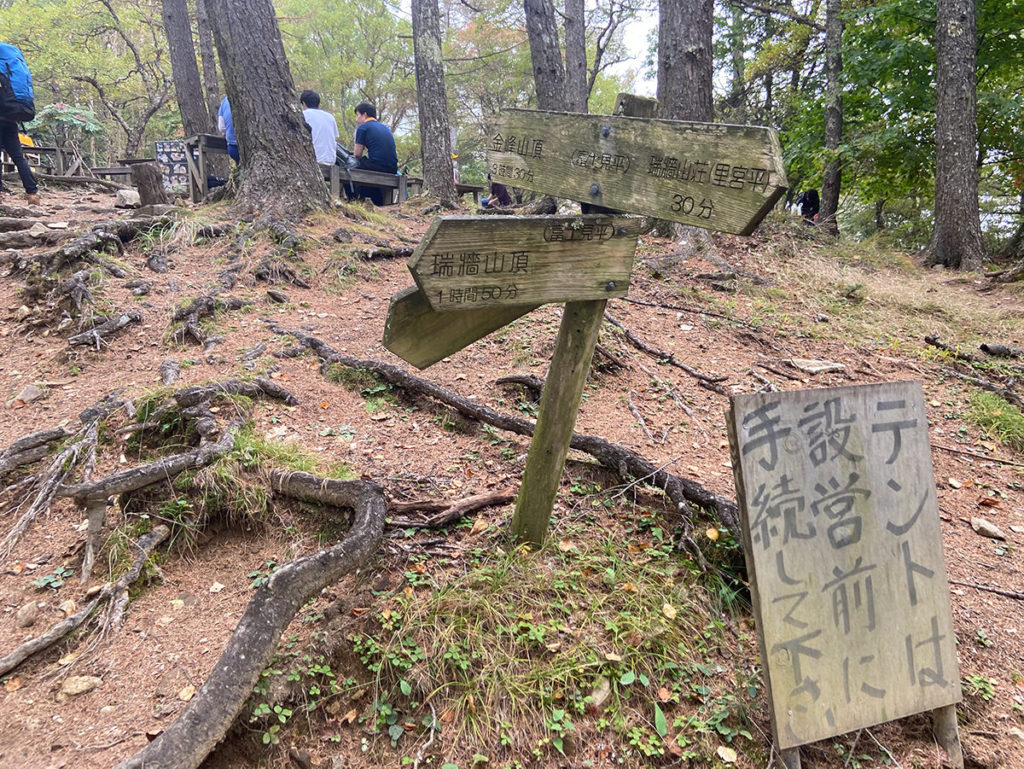 Follow the narrow trail for a while until a sharp downhill appears. You should take step by step slowly down to the stream called "Amadori-gawa"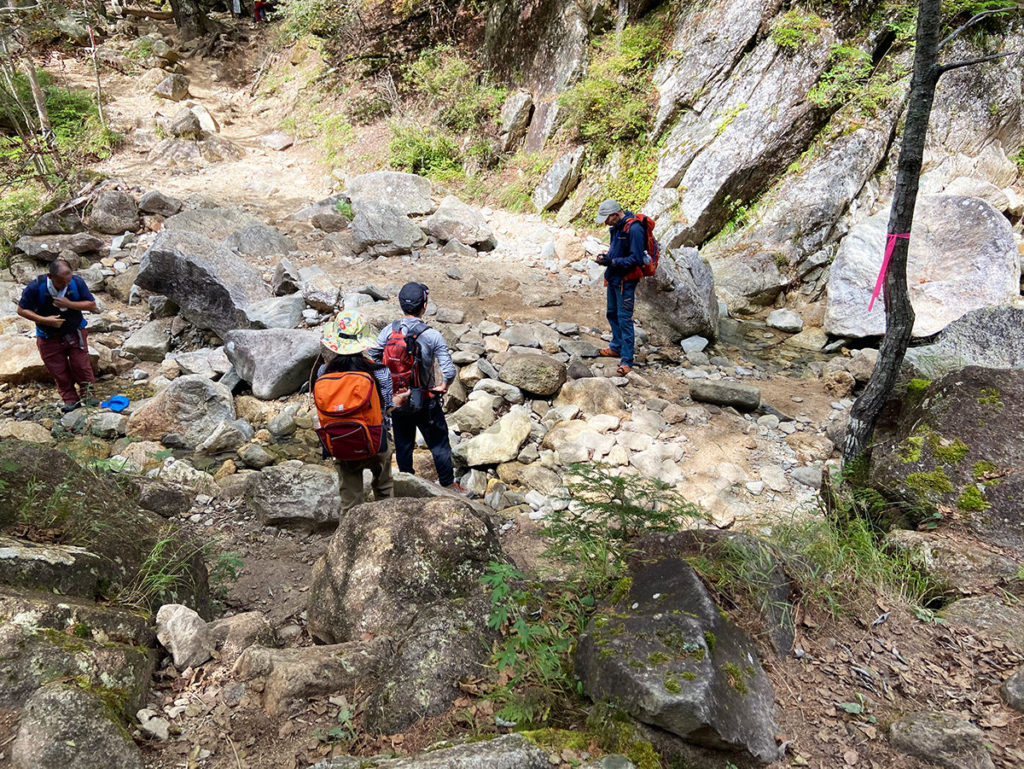 After the stream, you find a huge rock which has a crack in the middle in front of your view. It is one of the famous photo spot that everyone posts it on SNS.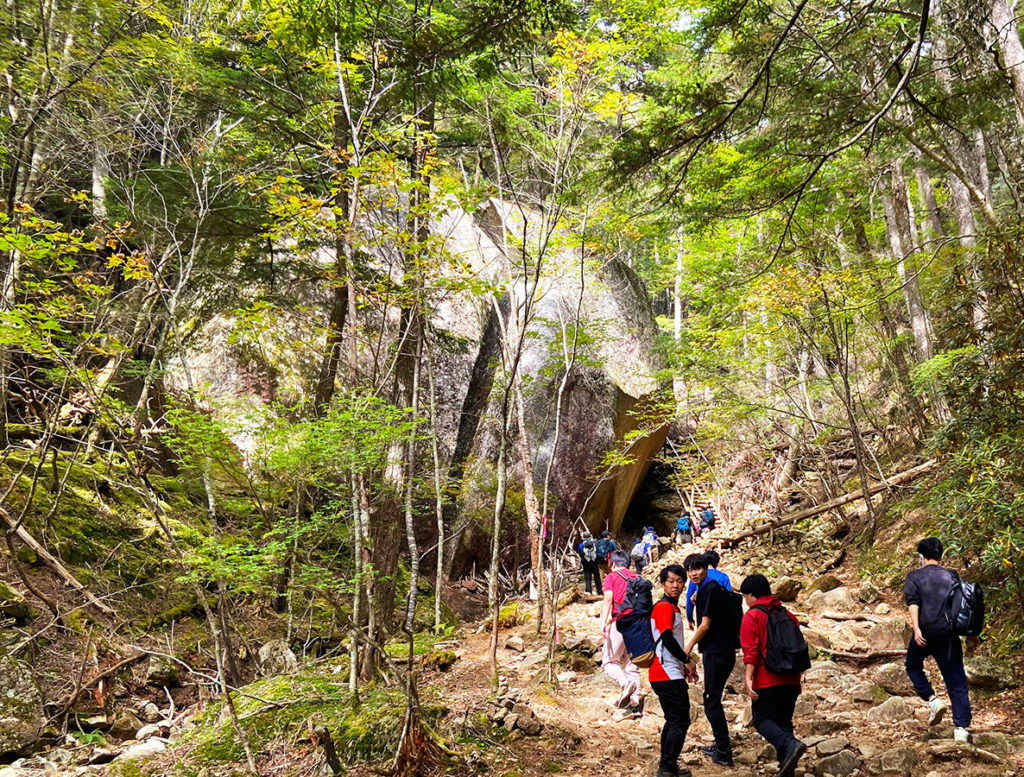 Once you pass by the Momotaro-iwa, a very sharp and rocky trails continue eventually up to Mt. Mizugaki. I recommend you to take a short break here. In the later part, you may not be able to find a flat safe space.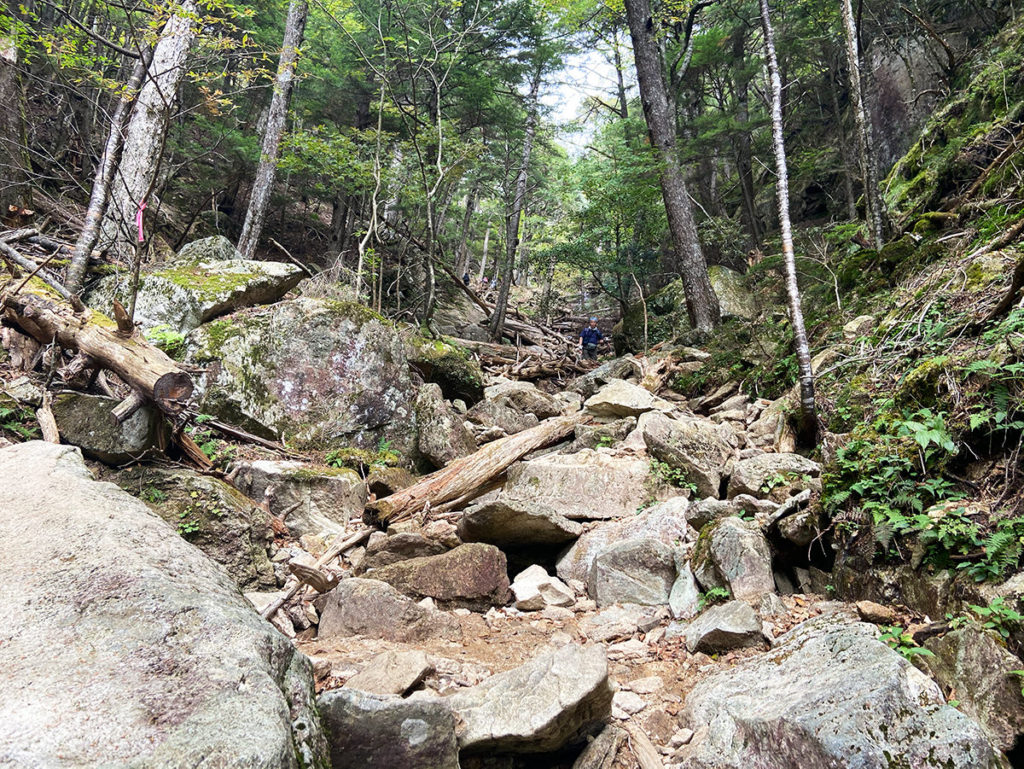 Sometimes you need to use your hands in rock zones with chains like below.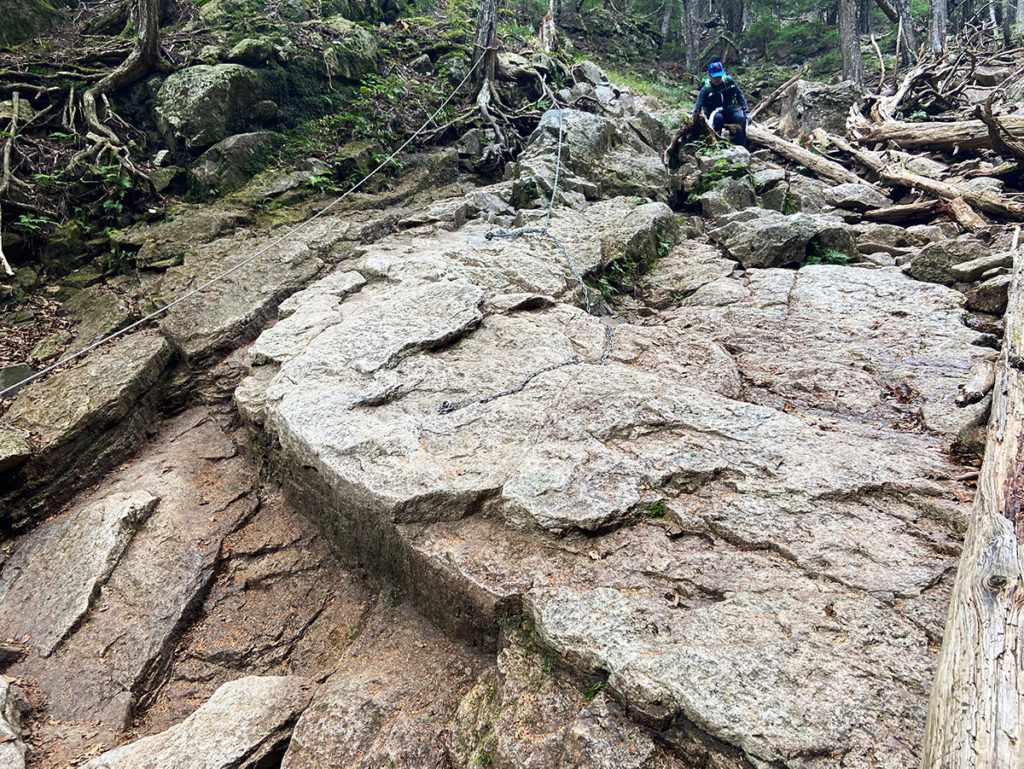 During busy season, some chain area is overcrowded and require waiting time. It is better to have some time allowance in your schedule.
There won't be any thrilling spot on the trail, but be careful not to slip. As it gets close to the peak, the rocks become bigger and bigger.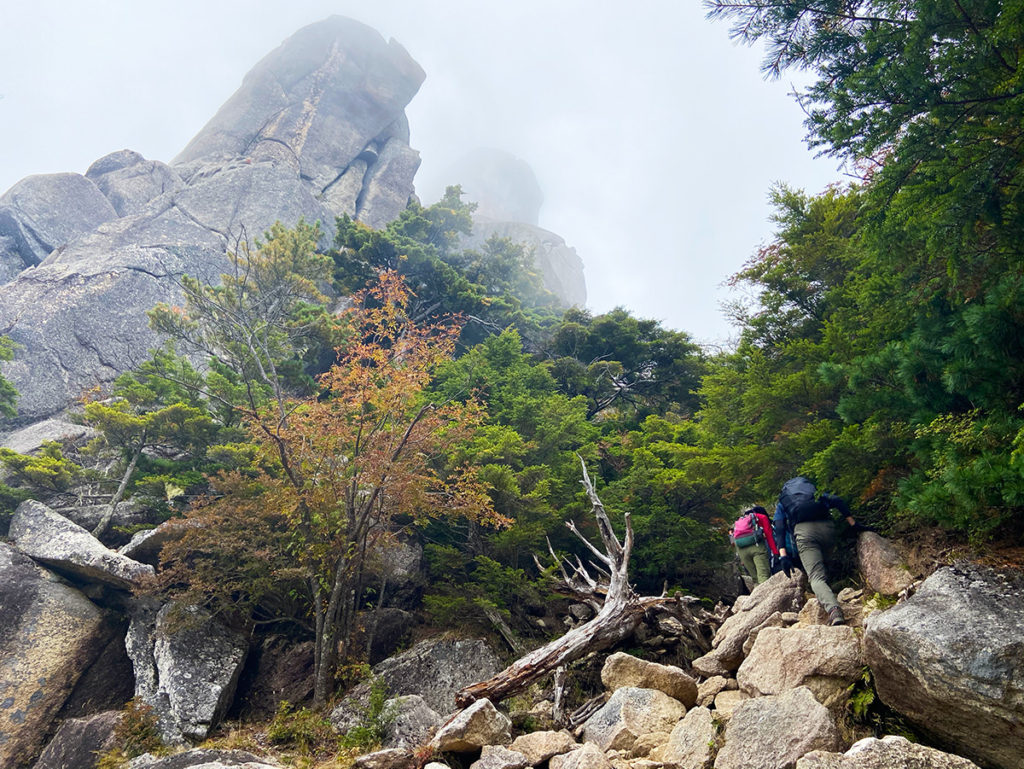 Finally, I arrived at the peak! But it is surrounded by heavy clouds and cannot see anything sadly…it happens.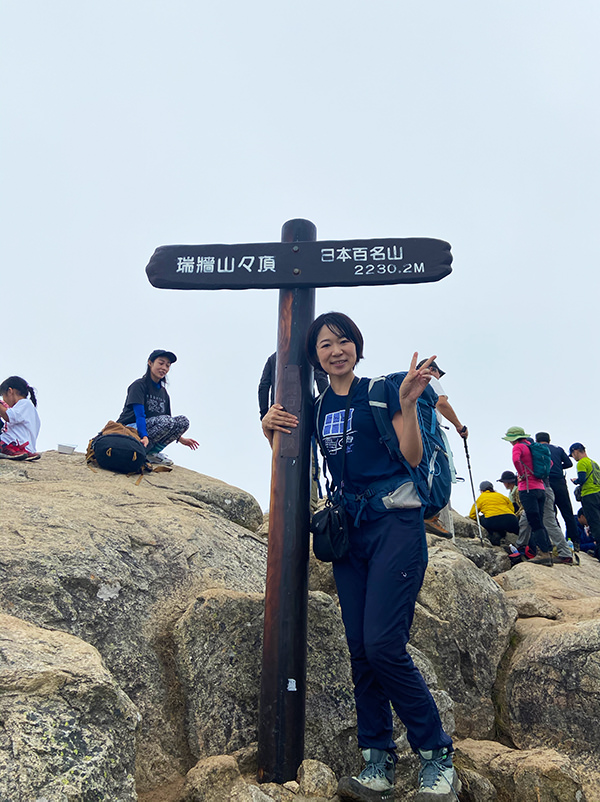 If you are lucky, you see good views of the Yatsugatake Volcanic Group, Mt. Kinpu, and beyond.
The summit is sometimes packed with a lot of people like the picture below. I guess it was one of the busiest day in a year…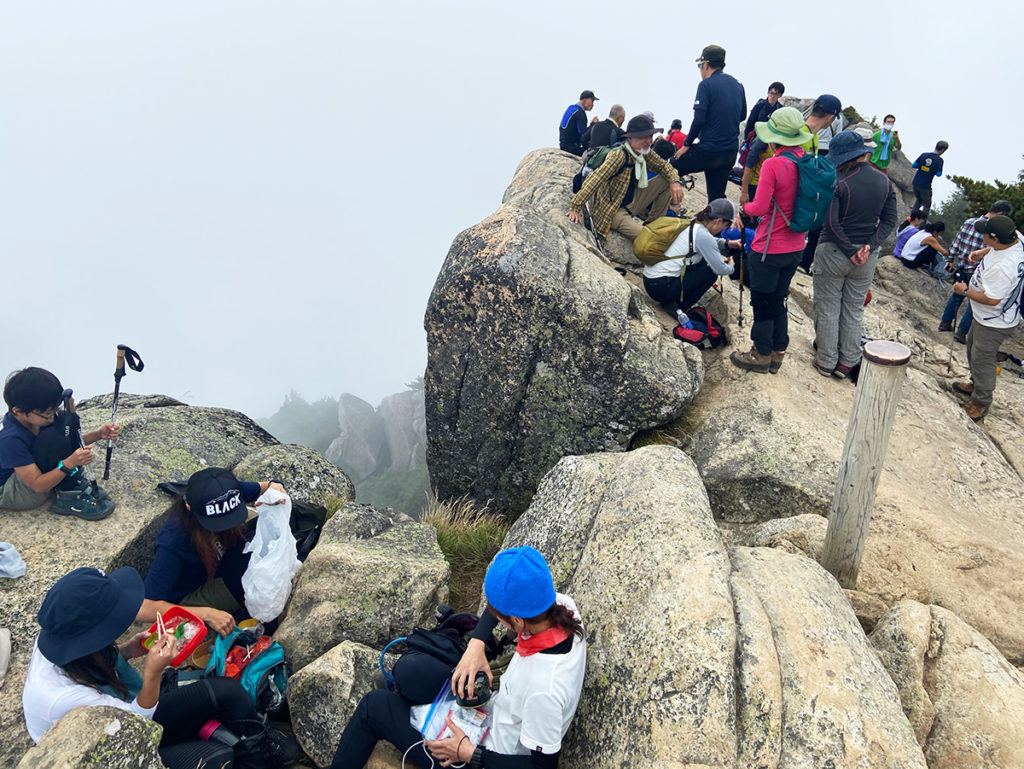 As there is only a limited space in the summit, it would be better to have a lunch in a wider space down.
Next time, I will come back in less crowded weekdays.
Witnessed Wedding Climbers!
On the way down, I heard some loud voice cheering "Omedeto-!" which means congratulations in Japanese.
I looked up wondering what is going on and found climbers who wear a wedding dress and a suit are climbing along a famous rock tower " Ohyasuri iwa".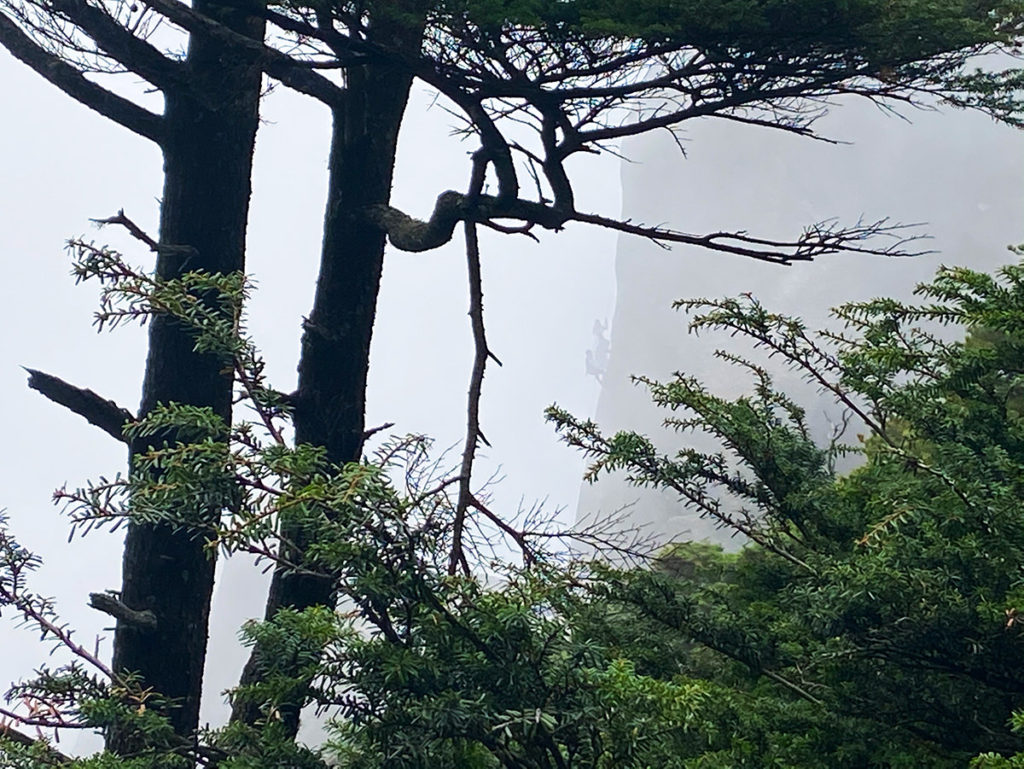 At first, it was covered by clouds, but eventually the sky is getting bluer as they come close to the peak.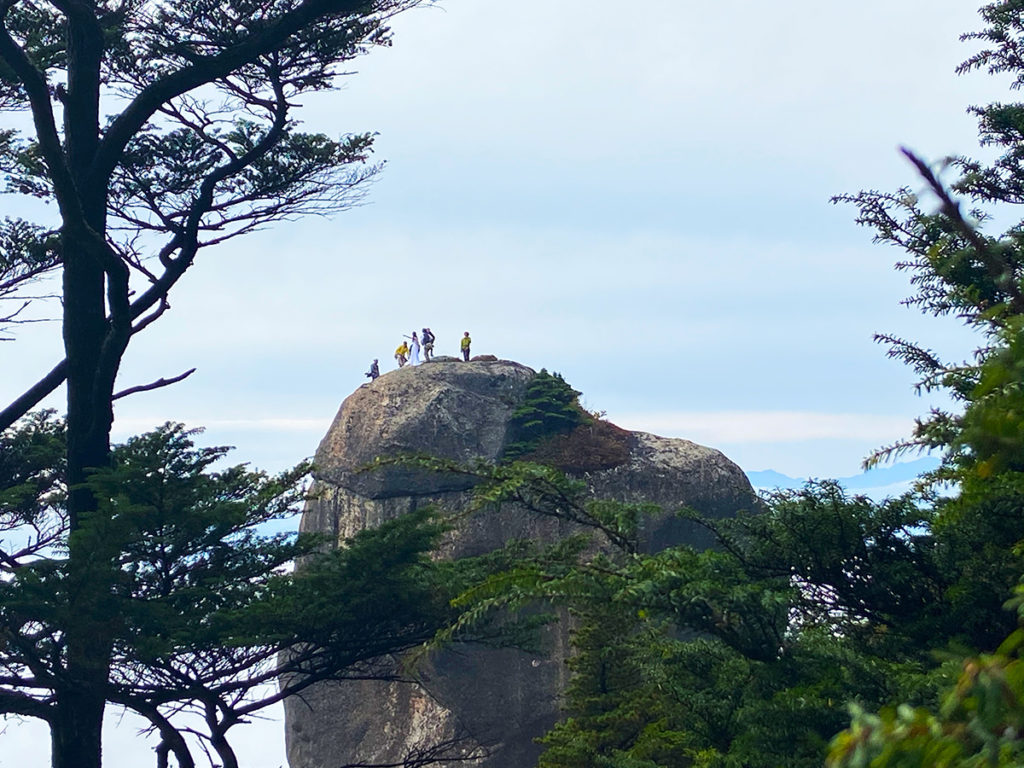 It was such a nice sunshine surprise! I cannot believe they could climb wearing un-casual and binding outfits!
I could not say it loudly, but murmured "Omedeto-" in a small voice by myself. 
Having a Small Break at the Fujimidaira-hut
I came down in a good pace, I decided to take a small break at the Fujimidaira-hut until the next bus coming at 3:20pm.
Here is the menu.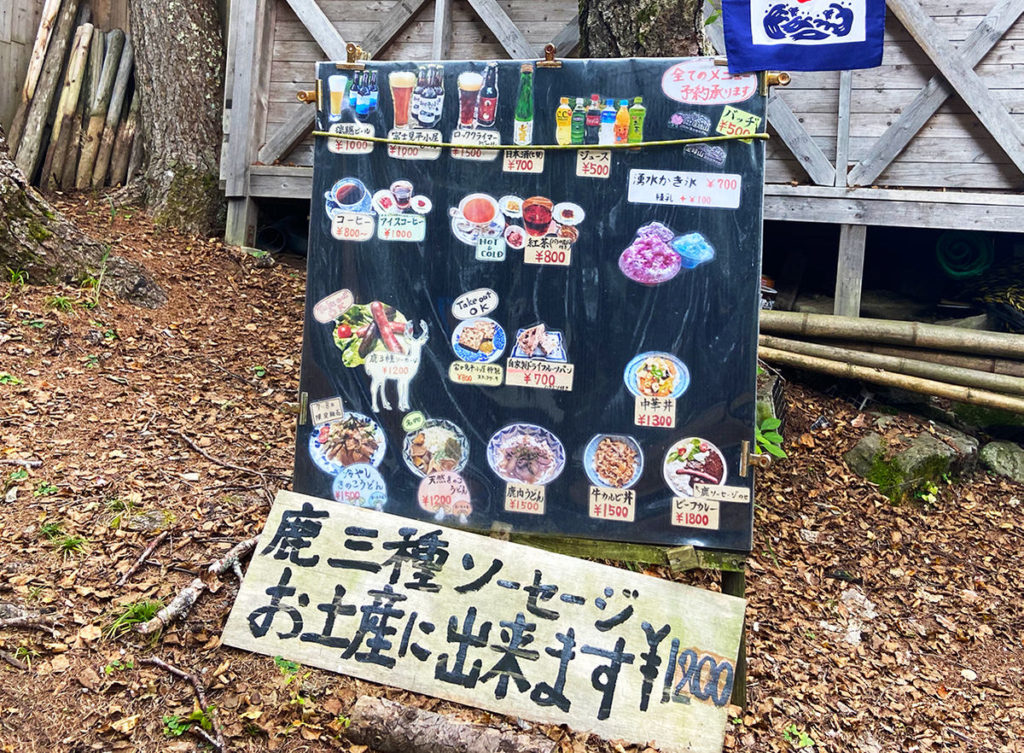 I ordered a bottle of craft beer, which is the original of the hut.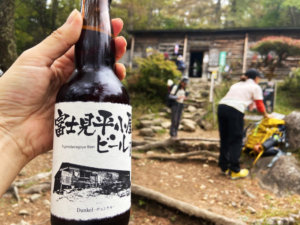 After a log hike, I feel so much refreshed with a tasty local beer! Pay attention not to fall on the way down, it takes another 30 minutes to get to the bus terminal.
Information
Hope you get useful information for Mt. Mizugaki hiking. Thanks for reading. 
Here is the map of the trail in Japanese.